Life has been busy... I realize I need a re-cap of the last week, so here goes:
Wed. 11th - Phil and I saw
"Wicked"
at the Kennedy Center. We scored with box seats (a gift from one of Phil's friends) and the musical itself was amazing. If you have a chance to see this show, do so. I was starting to get sick (took the day off work) , but I still had a great night out.
Thurs. 12th - Went back to work despite not feeling so great. Fortunately co-workers had planned a happy hour at nearby
Halo
, which was fun (I used to not like Halo, but they are growing on me as one of my favorite bars).
Friday 13th- Yes, it was Friday the 13th... and long story short there were funding proposals due that hadn't been worked on...I won't bore you with my nightmarish day at work, but it was a bitch. On top of feeling ill, I actually stayed home that night! ( I know, how rare)
Saturday 14th - I slept in. Intrestingly it was
Mid-Atlantic Leather Weekend
. So Phil convinced me to check out the events going on at the Plaza Hotel (use your imagination: slings, whips, leather chaps). It was educational to say the least.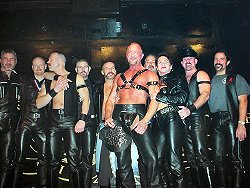 Somehow we wound up at Halo, and from there we treked over to the Green Lantern/Toolshed. Normally I wouldn't step foot in there, but hey, it was Leather Weekend and I secretly love to gawk at the leather daddies. We had a late dinner at
Annie's
(or as i call it, the Glass Coffin because of all the old queens who hang out in the window booths). Our waiter was truly interesting...
Sunday 15th - Started the day by going back to my apt. to get cleaned up, and I met Phil and his friend Cameron at
Healthbar
(1612 U St.). I think it's time for another...
Restaurant Review:
Healthbar
This place, sadly for me, gets two major thumbs down. What a clusterfuck!
Now, before I go any further, I will say they have awesome healthy smoothies. Worth going in for.
I will also make the disclaimer that perhaps the dinner or normal lunch times are better. But I was disapointed on almost every front, and their urban decor could not, alas, make up for the shitty service, confusing seat-yourself atmosphere (I HATE seat-yourself establishments), and poor, bland (yet surely healthy) food.
My advice: stear clear of brunch! Our waiter had tons of attitude, no service, the clientele is VERY yuppy U-Street, and the food (when it came) was not enough to make me ever want to come back.
I thought the drag brunch at
Chaos
has shitty food! But at least there were singing drag queens to make it worthwhile... not the case with over-hyped Healthbar!